FIRST BANDS 2019
ÅTERFALL (Sweden)
D-beat / käng from swedish band ÅTERFALL will be pleasure for many ears which are used to listen raw punk in the vein of mighty Anti-Cimex / Discharge. As a small bonus metal/punk influences and here we go with one of the secret tips for upcoming Fear Fest! Current and ex-members were or still are in bands like Haveri, Warmachine, Ilandsproblem, Usurpress or Discontrol.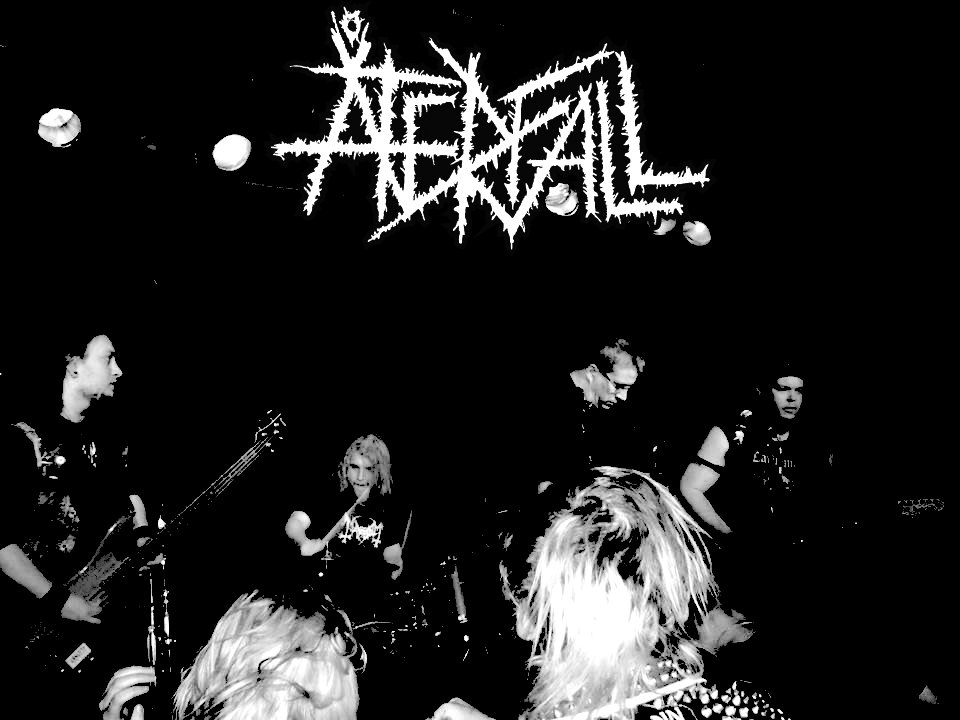 DEATH CULTURE DEPRIVATION (Czech Republic) – What people could name their band according recordings from Portland's Lebenden Toten? Haha. Ladies and gentlemen, we have another noisy commando for Fear Fest 2019. DEATH CULTURE DEPRIVATION. Raw crust hardcore from dark Vysočina area. Members and ex-members from bands like Evidence Smrit, Festa Desperato, Lycanthrophy, Kanálterror etc. Noise quality guaranteed.
DEVIATED INSTINCT (United Kingdom) – Deviated Instinct were the band who invented the punk term "Stenchcore", slang for crust punk. Godfathers. A true legend. That's only a few names for this UK band. Ladies and gentlemen. Deviated Instinct at Fear Fest 2019!
ENCORE (Czech Republic) – So here we go with another local pack, which will attend next Fear Fest issue. Raw crust from ENCORE where you can find skilled members from bands llike Jonestown, Black Aspirin, Demarche, Blinded, Rapida Muerte or Třetí Stupeň Tortury etc. etc. Bonus is that they are great fellas for neverending afterparty!
HONNÖR SS (Sweden) – Do you really think that there is no plan for some band(s) from Sweden for 2019 issue? No way! Here we go with first one .. and we are really proud of the fact, that first confirmed band from Sweden is Honnör SS! Noisy d-beat / raw punk for fans of Disclose / Framtid / Confuse. Distorted hardcore to the maximum! Pure evil!

——————————————————————————————-
BANDS 2018
ADRESTIA (Sweden) – It seems that bands from this country are sued to us. Another great swedish crust / death metal band for Fear Fest 2018 is Adrestia. Band with current or ex-members from bands like Shades Of Grey, Snake Tongue or FUTURE RUINS. Perfect mix of classic d-beat / punk heavily influenced by old good scandinavian death metal. Their debut album "The Art Of Modern Warfare" is the beast! We can´t wait for their live set in Prague again!
APPARÄTUS (Malaysia) – Ha! Scandinavian käng which is not from northern Europe? Yes! So welcome in line-up for Fear Fest 2018 raw d-beat / punk band from Malaysia. APPÄRATUS! For fans of bands like Anti-Cimex, Crude SS, Totalitär or Mob 47. Dirty d-takt answer from faraway Asia.
ASOCIAL (Sweden) – Ok, this is START! First announced band of let's say first issue of Fear Fest (aka well known Punx Picnic 2018 if you want) are mighty swedish legends Asocial! Band which is essential for the whole punk or crust scene. Asocial belongs to other scandinavian käng legends like Mob 47, Anti Cimex or Crude SS (to name a few). And btw their new album is killer! … It's a must to go to Prague at the end of May 2018!
BARBAR (Slovakia) Dark d-beat / metal with members or ex-members from bands like Beton, Munícia, Krutá Zima, Mansklig Ladugard, Lutra, Goatcraft or Demolizer. Bratislava city! Their first show outside the Slovakia ever!
https://truebarbar.bandcamp.com/
https://www.facebook.com/truebarbar/
DISTRESS (Russia) – The Russian d-beat / crust machinery DISTRESS has been visited Prague for a few times and all their gigs were worth it. And because they have plan for another european tour in spring 2018 it is logical that they will play at Fear Fest 2018. They know how to destroy you, trust us. So we are slowly closing our line-up …
EARTH CRUST DISPLACEMENT (Germany) – We love Toda and Toda loves us. It's easy, that is simply relationship between FOE crew and bands, where you can find this guy, who is (btw) running d-beat punk label Rawmantic Disasters (and UG hip-hop label Britcore Rawmance) plus he is the greatest organizer of punk gigs in Berlin ever! So it has some kind of logic, that his bands or projects you will see here at Fear Fest 2018. So ladies and gentlemen, welcome in current line-up – EARTH CRUST DISPLACEMENT. Raw and dirty d-beat like old good Disclose or Framtid. Fear Fest 2018 in Prague!
FEAR OF EXTINCTION (Czech Republic) – D-beat / crust-punk from Prague. These guys are the hosts of Fear Fest. Fear Of Extinction still wanna kick your ass with their noisy d-beat.
GRÄNSLANDET (Sweden) – Slow down. Gränslandet HC. Great raw mix of classic scandinavian d-beat / crust with sludge / doom parts. Really nice mix and proof should be their debut album "Solidum" (link below) and new upcoming album which will be out during next year. And hell yeah this band incl. members from bands like Myteri, Vengeance Of Karma or Socialstyrelsen.
KRUTA ZIMA (Slovakia) – D-beat massacre from Slovakia? Yes! Kruta Zima rules. But of course we hope for better weather at the end of May in Prague's Modrá Vopice venue. This is legendary primitive (but awesome of course …) disbeat band from Bratislava, so we definitively want to see them at Fear Fest 2018! And we hope that we are not alone in this … https://www.facebook.com/Kruta-Zima-144273932295920/
https://www.youtube.com/watch?v=mkFUJ2JgNmY
MÖRKHIMMEL (Czech Republik) – Thrash Metal / Crust. "Tormented and pummeling crust metal from Prague. None more heavy with landscape-leveling chords, and unscrupulously dark themes that churn within howling and gravely vocal tones. MÖRKHIMMEL has the metallic mid-tempo of AMEBIX and GUILLONTINE TERROR or contemporaries SCOLEX, with the skull-crushing machine vibe of PESD, and KILLING JOKE. All the while this LP remains HELLHAMMER-ing old school and DISGUST-ingly punk. MÖRKHIMMEL share members with a slew of bands from BETON and GUIDED CRADLE to HOLLYHOCK." (http://www.maximumrocknroll.com/record-of-the-week-morkhimmel-lp/by MRR)
MYTERI (Sweden) – No need for some big introduction for this band. MYTERI is dark d-beat / crust from Sweden in the vein of bands like Tragedy / From Ashes Rise, but with big influences coming out from classic scandinavian hardcore. Their 2nd new album "Ruiner" is a must. Fear Fest 2018!
PARASIT (Sweden) – Just to name their current and ex-bands of all the members, which are or were in this will be very long list. Let´s keep it for the end. You probably already know, that this band is one of the top from nowadays crust / d-beat scene in Sweden. They have two great albums (first on D-Takt & Raw Punk Records, 2nd one on Cyclone Empire and full 7"EP). Raw aggressive sounds in the vein of Skitsystem, Krigshot with influences coming out from classic old school death metal. Oh, and here are those bands we were talking about – Uncurbed, Asocial, Regurgitate, Sex Dwarf, Assassination, Uncanny, Demonical, Anger Burning, Infanticide, Interment, Crossing Chaos, Diskono, 3 Way Cum, Sauna. Sounds good, right? https://www.facebook.com/parasit666/
https://parasit.bandcamp.com/
SVART UT (Germany) – From the deep shadows of Berlin's squats raised beast with SVART UT name. Total noise destruction, which is heavily inspired by swedish punk scene. So you can expect set full of covers from bands like Mob 47, Shitlickers, Anti Cimex, Dismachine, Discard or Protes Bengt. Oh .. and this project is with Earth Crust Displacement members. https://svartut.bandcamp.com
URSUT (Sweden) – Well done, well done! For Fear Fest 2018 we have suprise! Band, which we already wanted here to see them live. Malmö d-beat crust finest Ursut! One of the best crust / punk bands nowadays. Their latest album "Köp Dig Lycklig" kicked many asses. And live sets? Hm, they didn´t have so much live gigs, but if you are lucky and see them somewhere – it is total madness. Ok, here you have band which their members you can saw in bands like Kontrovers, Crutches, Intensity, Sewn Shut or Skitkids. URSUT at Fear Fest 2018! First was Beethoven, then Beatles. Soon after Motorhead there was Discharge. Now is Ursut. https://www.facebook.com/ursut.hardcorepunk/
https://ursut.bandcamp.com/
VISIONS OF WAR (Belgium) – Another solid portion of dirty crust core, which I hope all of you already know. Musically it's straight forward D-beat such as the likes of Doom, Discard, Mob 47, Corpus Christi, but in the last couple of years metal became an influence, so what to expect, some straight forward stripped down D-beat, nothing more, nothing less.
VOIDFILLER (European disaster!) Another headliner for Fear Fest 2018 is international "all-star" band VOIDFILLER. This line-up is simply the best – Oskar (Crutches, Ursut atd.), Stiv (Visions Of War), Stef (Visions Of War, Chaka atd.), Adam (Driller Killer, Lautstürmer), Pjär (3 Way Cum, Parasit, ex-Svaveldioxid, Sauna atd.) a Christoffer (Driller Killer, Mob 47, Lautstürmer atd.). Enough to say, right? https://voidfiller.bandcamp.com/
https://www.facebook.com/Europeandisaster/
——————————————————————————————-
BANDS 2017
Friday – 19.5.2017 
MOB 47 (Sweden)
The Swedish raw punk legend is without exaggeration a punk cult! They formed in 1982 and are synonynum for the word käng!  Even after these years, they are still alive. Now with the new drummer in the set! www.mob47.se
PARANOID (症 症 者) (Sweden)
Swedish answer to the Japanese noisy d-beat / crust. If you like bands as Disclose, Framtid, Zyanos, Confuse with the basics in the traditional Scandinavian hardcore aka Anti Cimex, Mob 47, Crude SS … you will bend your knees! Https://pndftw.bandcamp.com Www.pndftw.com
CRUTCHES (Sweden)
So – the Malmö d-beat tsunami reaches again! Last year they played shit out of guests from punk picnic! Energetic crust punk show! You need to stay strong!
Https://crutches666.bandcamp.com Https://cs-cz.facebook.com/crutches666
VENGEANCE OF KARMA (Sweden)
Band from the Swedish town of Kristinehamn plays a fantastic mix of Dark Hardcore and Tragedy / His Hero Is Gone mixed with the classic aggressive d-beat / crush. Do not miss this band! Https://vengeanceofkarma.bandcamp.com Https://cs-cz.facebook.com/vengeanceofkarma
SOCIETY'S DECLINE (Sweden)
The fresh Swedish response to Discharge. Cruel and aggressive d-beat / punk, performed by veterans of the Stockholm scene. You can find here members of Makabert Fynd, etc.
Www.facebook.com/Societys-Decline-796937070427390 Https://phobiarecords.bandcamp.com/album/societys-decline-6-track-7ep
MÖRKHIMMEL (Czech Republic)
Local metals – a solid portion of metal mixed up with Nordic hardcore. Noisy menace!
Www.morkhimmel.cz Https://morkhimmel666.bandcamp.com
FICKEN LEBEN
The night will be open with sludge / grind / noise – the evil from Kolín with Afterlife members or Komplex Viny. Www.youtube.com/watch?v=QoXZbJYL114
Saturday – 20.5.2017 
HELLKRUSHER (UK)
Legendary crust punk band from Newcastle formed in 1989 by members of Hellbastard and Aftermath. Members of Doom, War / System, Dirt, The Vile, etc. are also banded together. Rough dis-guitars and grasping vocals -Since decades crushing crust! Www.youtube.com/watch?v=2hlZm4CEitw Https://cs-cz.facebook.com/Hellkrusher-150956601634337
PASSIV DÖDSHJÄLP (Sweden) Crustcore band – a classic Swedish crust combo as Skitsystem / Wolfbrigade but with a pinch of Swedish death metal.
Https://cs-cz.facebook.com/Passiv-D%C3%B6dshj%C3%A4lp-153731461347579
Https://passivdodshjalp.bandcamp.com
INSTINCT OF SURVIVAL (Germany) 
Hamburg stenchcore! German response to bands like Amebix, Deviated Instinct, Axegrinder or Hollyhock and Sanctum. Https://cs-cz.facebook.com/Instinct-of-Survival-181538611872734 Https://instinctofsurvival.bandcamp.com
OVERCHARGE (Italy)
Dropped dis-motorcharged punk from Italy. Great musical clash with Discharge sound. So fans of Inepsy or Born Dead Icons will love! Https://cs-cz.facebook.com/OverchargeRnR
Https://overcharge.bandcamp.com
DZORNATA (Slovenia)
Raw punk  from Slovenia. So if you like Disorder or Chaos UK, this band will just surprise you! Www.facebook.com/%C4%90ornata-229911260530042 Https://dzornata.bandcamp.com
SEE YOU IN HELL (Czech Republic)
Brno's hardcore / punk SEE YOU IN HELL reinforced by two guitar guys who also act at Tomorrows Hell and Kriminalität. Www.seeyouinhell.cz
FEAR OF EXTINCTION (Czech Republic)
D-beat / primitive crust and the fabulous hosts of Punx Picnic. Www.fearofextinction.bandcamp.com
GOMORA (Czech Republic)
Local metal / crust band. Always perfect and cheerful. Http://bandzone.cz/gomoracrustbeat
ANGRY BRIGADE (Czech Republic/Germany)
Old Czech HC-Punk Band with new front singer which is Steffi of German Antigen.
Http://bandzone.cz/angrybrigade
AFTERLIFE (Czech Republic)
Young and now quite reckless sludge / crust band that originated on the ruins of the Propaganda in Sázava. Https://afterlifepunk.bandcamp.com/releases
SLAVERY (Czech Republic)
D-beat / crust bangers from Prague. It will be a wild ride!
Http://bandzone.cz/slavery
MOB 47 (SWE) 偏執症者 (Paranoid) (SWE) CRUTCHES (SWE) VENGEANCE OF KARMA (SWE) SOCIETY'S DECLINE (SWE)MÖRKHIMMEL (CZ)FICKEN LEBEN (CZ) HELLKRUSHER (UK) INSTINCT OF SURVIVAL (GER)  PASSIV DÖDSHJÄLP (SWE) OVERCHARGE (ITA) DORNATA (SLO) SEE YOU IN HELL (CZ) AFTERLIFE (CZ) GOMORA (CZ) FEAR OF EXTINCTION (CZ) ANGRY BRIGADE (CZ/GER) SLAVERY (CZ)